Retaining walls from PREFABET
Retaining walls from PREFABET available as "L", "I" and "T" types. A product with a wide range of engineering construction applications including road building, general, civil, industrial and agricultural construction. They are ideal for securing slopes, embankments, loose raw material and even for shaping uneven terrain. Their incredible advantage is the high pressure resistance of the inner and outer surfaces. We are able to adjust the load to suit the client's needs.
Characteristics of retaining walls from PREFABET
For the production of the retaining walls, we use the highest quality concrete grade C25/30 in exposure class X0 and in C30/37 in exposure classes XC3, XF2, XA1. PREFABET retaining walls are manufactured in two classes of resistance to ground loads: 5 kN/m2 and 33,3 kN/m2. We also offer customised production of resistance elements according to documentation provided by the customer.
We carry out projects of retaining walls 80 cm wide and 250 cm to 350 cm high, with a wall thickness of 20 cm. The length of the bottom foot is dependent on the height of the retaining wall.
In addition, we also offer the construction of retaining walls from 50 cm to 250 cm high and 50 cm to 300 cm wide, with a wall thickness of 8 cm to 12 cm (thickness depending on the height of the wall).
Concrete blocks from PREFABET
We are a manufacturer of concrete blocks. Concrete blocks for the construction of boxes and aggregate fences and retaining walls. The blocks have approved carrying handles and are manufactured from C25/30 concrete. We offer approved chains for sale together with couplings dedicated to block-mounted anchors. The concrete blocks resemble set blocks and are also laid in this way, making their set-up very quick and easy.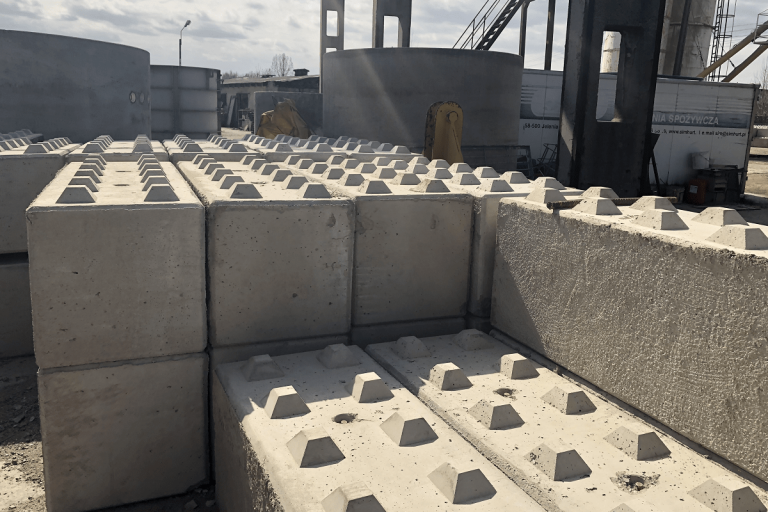 Advantages of using retaining walls
Retaining walls from PREFABET represent a high-quality product with a wide range of applications in the construction industry:
short time of assembly,
resistant to heavy loads within a short period of time after set-up,
high quality wall surfaces,
possibility to use them as fencing,
watertight,
frost resistant.
Contact us and discover our offer of retaining walls